Local Packers and Movers in Kolkata - 9883680002
When it comes to top-rated Local Packers and Movers in Kolkata West Bengal, making the right choice is crucial. Trust the professionals at APL Car Bike Moving to help you find professional local packers and movers. Our platform offers quick and accurate cost estimates for your convenience.
APL Car Bike Moving is your trusted source for verified local shifting services in Kolkata, ensuring a safe and hassle-free home relocation experience. Our network of local movers offers a range of budget-friendly services, including packing and unpacking, loading and unloading, disassembly and assembly, transportation, and even office shifting.
Here's how it works: Explore the company profiles, compare local packers and movers in Kolkata charges, and read customer ratings and reviews. Then, shortlist the most affordable packers and movers near you according to your specific requirements.
At APL Car Bike Moving, we are dedicated to providing reliable customer support to ensure your peace of mind throughout the moving process. Save money and make the best choice for your move with APL Car Bike Moving.
Guide to Hire Local Packers and Movers in Kolkata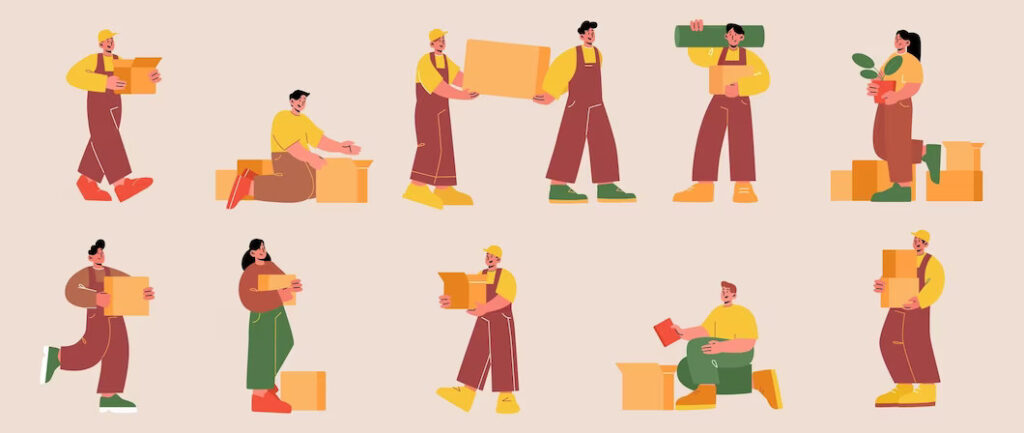 Moving anywhere within Kolkata city can be quite challenging, particularly when you need to transport a substantial amount of belongings. Numerous potential risks come into play, including a shortage of manpower, the possibility of damaging your items or property, and the risk of personal injury, among others. Without the appropriate expertise and training, this process can quickly become extremely inconvenient for you.
For a hassle-free relocation experience with minimal risks, it's highly advisable to enlist the services of local packers and movers in Kolkata. These professionals possess the necessary skills and knowledge to handle various tasks, such as disassembling furniture, expertly packing your belongings, loading them with care, ensuring reliable transportation, timely delivery, and damage-free unloading at your new destination.
By entrusting your local move to a skilled and reputable house shifting service provider, you can significantly reduce physical strain, alleviate mental stress, shorten the time required for the move, and even save money in the process.
Address– Gupta Apartment, 3/46, MS Mukherjee Rd, Kalyan Nagar Mathpara, Kulinpara, Khardaha, West Bengal 700116
Mobile– 9674908002, 9883680002
Mail- aplindiapacker@gmail.com
Bangalore Address– 9/50, 3rd Main, Ist Cross, Rajiv Ghandhi Nagar, Bommanhalli, Sector- 7, HSR Layout, Bangalore- 560068
Mobile– 9831313994
Reliable Local House Shifting Services in Kolkata
If you're searching for a reliable local house shifting service in Kolkata, it's essential to conduct thorough background research. This involves verifying various aspects, such as the movers' websites, legal documentation, offered services, historical performance, and office address. Unfortunately, the market is plagued with fraudulent relocation companies that may engage in unscrupulous practices like adding hidden fees and mishandling your belongings. This investigative process can be time-consuming and stressful, and even after careful vetting, there's a risk of inadvertently selecting the wrong moving company.
To simplify this daunting task and safeguard your time and effort, you can effortlessly secure local shifting services in Kolkata through a reputable company. APL Car Bike Moving boasts a robust network of top-rated movers and packers in Kolkata, all meticulously vetted by our team. You can directly engage local house shifting services in Kolkata providers by perusing the listings on our portal.
If, for any reason, you can't find Local Packers and Movers in Kolkata that align with your needs, simply complete our query form, outlining your specific relocation requirements. Our team will promptly connect you with three of the best-matched local home relocation services in Kolkata, conveniently located near you. This enables you to discuss your shifting needs directly with the movers and receive instant cost estimates tailored to your specific requirements. Factors considered include the type of services you need, the desired level of packing quality, and the total number of items to be moved.
You can swiftly compare these quotes from different packer and mover companies, taking into account the range of services they offer. Additionally, you can peruse their past reviews and ratings, facilitating the identification of the most suitable local packing and moving company to meet your needs. Whether it's a local or interstate home relocation, APL Car Bike Moving is your trusted partner in finding dependable Local Packers and Movers in Kolkata to ensure a smooth and secure transition.
Approx. Local Packers Movers in Kolkata Charges
| House Size/ Distance | Up to 10 km | 12 – 30 km | 31 – 50 km |
| --- | --- | --- | --- |
| 1 RK | ₹ 2,700 – 8,100 | ₹ 2,800 – 8,500 | ₹ 2,900 – 8,900 |
| 1 BHK | ₹ 3,600 – 9,000 | ₹ 3,800 – 9,500 | ₹ 4,000 – 10,000 |
| 2 BHK | ₹ 5,100 – 13,300 | ₹ 5,400 – 14,000 | ₹ 5,700 – 14,700 |
| 3 BHK | ₹ 6,200 – 18,100 | ₹ 6,500 – 19,000 | ₹ 6,800 – 20,000 |
| 4 BHK/Villa | ₹ 7,600 – 19,400 | ₹ 8,000 – 20,500 | ₹ 8,400 – 21,500 |
Note: To know more about local house shifting costs in Kolkata, go through the link.
Factors Affecting Packers and Movers Cost in Kolkata
Factors Affecting Local Relocation Costs:
Quantity of Items: The size of the moving vehicle is determined by the number of items you need to transport. The more items you have, the larger the truck required, which in turn increases the overall cost of the move.

Packaging Quality: To minimize the risk of damage, focus your packing efforts on delicate items, furniture, and large appliances when relocating within a 30 km radius. The cost of packing materials and services may vary based on the quantity and quality of packaging needed.

Moving Date: Be strategic about choosing your moving date. Weekends and month-end periods tend to be more expensive due to high demand. Consider relocating on weekdays or mid-month to save on moving expenses.

Floor of Residence: If your current and new residences are on the ground floor, costs are typically lower because door-to-door shifting is straightforward. However, if you reside on the first floor or above, expect slightly higher expenses due to the additional labor and effort required for moving.

Availability of Lifts: Lack of an elevator in your building can lead to increased charges as movers must navigate narrow staircases when moving to or from higher floors.

Distance Traveled: The most significant factor influencing relocation costs is the distance between the origin and destination. Longer distances require more fuel and, consequently, result in higher moving expenses.
APL Packers and Movers in Kolkata Services
House Shifting Services within Kolkata
Local household moving companies assume full responsibility for your relocation, ensuring a well-organized and secure transition. They expertly transport your household belongings, including furniture, kitchenware, electronics, fragile items, and more, using high-quality packing materials, specialized tools, properly sized vehicles, and modern handling equipment.
Quality Packing and Moving Services
Local Packers and Movers in Kolkata prioritize packing essential items when handling short-distance relocations to minimize the risk of damage. They employ top-notch packing materials such as carton boxes, corrugated sheets, bubble wraps, inflatable airbags, plastic wrap, polypropylene bags, packing paper, and more to guarantee the utmost safety for your household belongings.
Safe Loading and Unloading Services
Relocation service providers offer exceptional loading and unloading services, utilizing state-of-the-art material handling equipment such as hand-trucks, furniture sliders, panel movers, moving dollies, moving blankets, straps, pads, ropes, and more. These tools are instrumental in ensuring the careful and secure loading and unloading of your household belongings to and from the truck. Moreover, they maintain a meticulous inventory to track your items and prevent any misplacement.
Expert Disassembly and Reassembly Services
To guarantee the safe disassembly and reassembly of your belongings, highly-rated local moving companies in Bangalore adhere to precise guidelines and employ the appropriate tools, including wrenches, utility knives, electric tape, screwdrivers, wire strippers, testers, and more. They specialize in disassembling large or delicate items such as beds, sofas, chandeliers, air conditioners, fans, geysers, and other intricate pieces to facilitate smooth relocation.
Hiring Local Labor and Renting Trucks
Should you opt for a DIY move, local packers and movers in Kolkata offer the option to rent reliable trucks and hire skilled labor for assistance. You can select an appropriately sized truck to safely transport your household items and enlist the services of 2-3 trained individuals to assist with the handling of bulky items. These experienced laborers are proficient in disassembly, packing, loading, unloading, and reassembly tasks, and can also aid in setting up your new home.
Efficient Local Office Relocation Services
Local office shifting service providers employ top-quality packing materials such as corrugated sheets, fiberboard boxes, molded pulps, foam edge guards, bubble tapes, and more to securely pack your office equipment. They additionally provide insurance coverage, allowing you to claim compensation in the event of any damage to your office items, including furniture, servers, UPS units, laptops, monitors, projectors, printers, pantry items, and other valuable assets.
Home Relocation Process within Local Packers and Movers Kolkata
The premier Local Packers and Movers in Kolkata for local relocations conduct a thorough pre-move assessment to estimate shifting costs and engage in detailed discussions with customers about their packing and moving requirements. On the day of the move, the relocation company follows a comprehensive set of procedures to seamlessly execute the shifting process.
Disassembly of Bulky Household Items: Our local packers and movers in Kolkata expertly dismantle heavy household items such as furniture and appliances, adhering to safety guidelines to ensure their safe transport. This process also facilitates the efficient arrangement of items within the moving truck, optimizing space utilization.

Professional Packing of Your Belongings: Using top-quality packing materials including plastic wrap, packing paper, carton boxes, bubble wrap, packing peanuts, foam rolls, and more, our Kolkata-based local packers and movers protectively wrap and pack your possessions. The choice of materials is tailored to the nature of your items and the desired level of protection.

Loading of Goods into the Transport Vehicle: Our trained laborers, working closely with Best Packers and Movers in Kolkata, safely load your belongings into the designated transport vehicle. They employ specialized equipment such as furniture dollies, hand trucks, goods moving panels, straps, moving blankets, ropes, and more to ensure the safe handling of your items.

Secure Transportation to Your New Destination: For local shifting in Kolkata, we provide reliable and secure transportation of your belongings in our specially selected trucks. The choice of transport vehicle is based on the volume of goods to be transported and the distance of the move.

Doorstep Delivery and Unloading: Our local house shifting services in Kolkata are committed to ensuring prompt and punctual delivery of your items right to your doorstep. Our team will unload all goods using the appropriate equipment and place them inside your new home as per your specific instructions.

Efficient Unpacking Services: Our nearby movers and packers in Kolkata also offer comprehensive unpacking services. They will unpack all delivered home items and assist in arranging them as requested. Upon unpacking, you can inspect your belongings for any damage and promptly report any issues to our moving company for resolution.

Reassembly of Disassembled Items: Any items that were disassembled at the origin will be skillfully reassembled by our Local Movers and Packers in Kolkata, following precise guidelines and utilizing the appropriate tools. You should plug in and verify the functionality of all appliances and reassembled goods to ensure they are in perfect working condition. Additionally, you have the option to inspect for damages and initiate any necessary compensation claims.
Risks of Moving by Yourself
Moving within or outside Kolkata without the assistance of professional movers and packers may initially appear to be the most cost-effective approach for relocating your belongings from one place to another. However, there are various potential risks associated with self-packing and moving. Let's explore the challenges you might encounter when attempting to handle your own packing and relocation:
Financial Considerations: When you opt for a DIY move, you'll need to allocate funds for purchasing packing materials, securing transportation, hiring labor for packing and moving, and there's a significant likelihood of damaging your possessions during the process. Ultimately, the expenses incurred in a self-move may surpass those of hiring reputable Local Packers and Movers in Kolkata.

Physical Injuries: Undertaking the manual labor involved in lifting heavy boxes and furniture poses a considerable risk of injuring yourself. Inexperienced handling and a lack of sufficient manpower increase the chances of straining your back. You may also accidentally drop bulky items on your hands or feet, leading to potential shoulder and knee injuries.

Reliance on Others: Prior to starting your packing and moving tasks, you might have enlisted the help of neighbors or friends. However, if they are unavailable on the day of the move, you'll be left to manage all responsibilities independently, potentially prolonging the relocation process.

Navigational Challenges: Without the assistance of trusted local packers and movers in Kolkata, managing the transport of your belongings through narrow and winding staircases can be problematic. An experienced mover possesses the expertise to handle your possessions adeptly and employs the best techniques to ensure the utmost safety of your household items during transit.

Lack of Packing Expertise: In the absence of prior packing experience, you may not be aware of the optimal methods for handling specific items. This increases the risk of damaging your valuable possessions or causing property damage such as dents on walls, scratches on floors, or broken banisters.

Time-Consuming Process: Given your limited knowledge of packing and moving techniques, it's likely to take you considerably more time to complete the move compared to a professional moving company. This extended timeframe can lead to inconvenience and delays in settling into your new residence.
In summary, while moving on your own may seem like a cost-saving option initially, it's essential to recognize the potential risks involved, including financial expenses, physical strain, reliance on others, navigational challenges, potential damage to belongings and property, and the time-consuming nature of the process. Engaging the services of a reputable moving company in Kolkata can offer a more efficient and secure solution for your relocation needs.
How to Find Reliable Movers and Packers in Kolkata for Local Shifting?
Beware of fraudulent Local Packers and movers in Kolkata that may entice you with low shifting costs, only to abscond with your belongings or demand exorbitant fees for their return. To safeguard your assets, it is imperative to conduct a thorough background check on prospective movers and packers in Kolkata before engaging their services. Here's how to go about it:
Verify Company Details: Prior to hiring any local movers and packers in Kolkata, scrutinize their online presence. Ensure that their website provides comprehensive and authentic information about the company. Additionally, confirm their compliance with the necessary government regulations, such as GST registration, licenses, and the owner's identification.

Visit the Company's Physical Office: Fake moving companies typically lack a well-established office and proper transportation arrangements. To steer clear of such unscrupulous operators, make an in-person visit to their office location. Assess whether they maintain an adequate office setup and possess suitable transportation facilities.

Review Customer Feedback: In addition to verifying their credibility, gaining insights from previous customers is crucial. To do this, peruse customer feedback and reviews. You can find genuine testimonials on reputable platforms such as Mouthshut, Google My Business, Facebook, and others. Pay attention to their star ratings as well.

Obtain Moving Cost Estimates: Share your specific moving requirements with multiple companies and request estimated cost quotations from at least three to five of them. Option for providers with reasonable pricing and engage in shrewd negotiation to potentially reduce the charges. Additionally, scrutinize the final bill for any hidden fees.

Compare and Select the Ideal Movers: When making your decision, conduct a comprehensive comparison of various factors. Evaluate company profiles, brand reputations, available services, estimated charges, historical performance, and customer reviews and ratings. Ultimately, hire the packing and moving company that aligns best with your needs and budget.
Why Should You Choose Movers and Packers from APL Car Bike Moving?
Discover the Assurance of Reliable Local Packers and Movers in Kolkata
At APL Car Bike Moving, we take pride in offering you a seamless relocation experience. Our Packers Movers Kolkata's commitment to quality and reliability sets us apart from others. Here's why you should choose our movers:
Thoroughly Verified Packers and Movers – APL Car Bike Moving boasts an extensive network of verified local packers and movers in Kolkata. We leave no stone unturned to ensure peace of mind for our customers. Our rigorous online and offline verification processes encompass a thorough examination of packers and movers' websites, registration documents, service quality, performance history, star ratings, and contact details.

Streamlined List of Local Shifting Companies -Our platform presents a well-organized catalog of local house shifting services in Kolkata. We arrange these service providers based on their ratings, performance records, locations, and other relevant factors. It's effortless for you to browse through our list of local moving companies, scrutinizing their services offered, reviews, ratings, locality, and availability to find the perfect match for your unique requirements.

Effortless Comparison for Informed Choices – Connect with a minimum of 4-5 local packers and movers in Kolkata and share your relocation requirements. This allows you to swiftly obtain estimated charges. You can then easily compare the details of these service providers to make an informed decision. Ensuring that you select the right moving company within your budget is a breeze with APL Car Bike Moving.

Instant Estimates from the Top 3 Movers – If you prefer a hassle-free experience, simply provide us with essential information about your move, such as your current and destination locations, the list of items to be moved, desired services, and your contact details. Our dedicated team will promptly supply you with quotes from the three most suitable packers in Kolkata.

Commitment to Quality Assurance – We uphold our commitment to service excellence by conducting regular quality checks on our partner movers. Those who consistently deliver on their promises earn higher ranks. Simultaneously, we take decisive action, including temporary suspensions or permanent blacklisting, against companies that fail to meet our quality standards.

Customer Support from Start to Finish – Your journey with APL Car Bike Moving is supported by our responsive customer care team. They are at your service from the moment you submit your query form until your goods are safely delivered. We address all your queries, suggest alternative movers in Kolkata if needed, and take swift action against any service provider that does not uphold their commitment.
Choose APL Car Bike Moving for a stress-free, reliable, and efficient relocation experience. We provide you with secure solutions from start to finish.
How to Plan Your Local Home Shifting in Kolkata
To ensure a smooth and stress-free relocation, it's essential to plan ahead. Follow these steps for a hassle-free moving experience:
Plan Ahead to Avoid Last-Minute Rush: Start your relocation preparations well in advance. Creating a checklist of tasks will help you stay organized throughout the process.

Local Moving Tips for a Swift and Secure Move: Familiarize yourself with local moving tips to expedite your move while ensuring the safety of your belongings.

Find Nearby Local Packers and Movers: Begin your search for a reliable packers and movers company one week before a local move and 15-20 days ahead for a domestic move. This allows you to book their local shifting services at competitive rates.

Choose the Right Moving Day: Opt for mid-month and weekdays for your move as these are typically less hectic times for local packers and movers in Kolkata. You can secure affordable rates during these periods.

Declutter Before Moving: To simplify your relocation and reduce costs, eliminate unwanted items by donating or selling them.

Pack Your Essentials Separately: Pack essential items like medicine, personal care products, clothing, children's necessities, etc., separately to ensure a comfortable transition to your new home.

Organize Important Documents and Valuables: Safeguard your essential documents in a dedicated file and keep valuables such as jewelry, laptops, and tablets in a bag that you carry with you personally.

Thoroughly Clean and Inspect Your New Home: Prior to moving in, ensure your new residence is thoroughly cleaned. Check the functionality of electrical outlets, switches, taps, and other fixtures. Arrange for any necessary repairs.

Update Your Address: To prevent important mail from getting lost, update your address with key institutions such as educational institutions, banks, magazine subscriptions, credit card companies, and online shopping sites.

Manage Utilities: Contact your utility service providers (e.g., newspaper agency, Wi-Fi, LPG agency, cable TV, milk supplier) to arrange for disconnection, reconnection, or transfer of services.

Prepare Appliances and Electronics: Clean and prepare your appliances for the move. Defrost the refrigerator and pack and label all electronic wires for easy reassembly.

Document Your Belongings: Take photographs of your belongings before disassembling or unplugging them. This will aid in reassembling and identifying any potential damage during the move.
By following these steps, you can ensure a well-organized and efficient relocation process, whether it's a local or domestic move. Planning ahead and staying organized will make the transition to your new home much smoother.
Domestic Packers and Movers in Kolkata
It is widely acknowledged that the process of relocating one's home can be an incredibly stressful endeavor, whether you're moving within your neighborhood or embarking on a journey to an entirely new city. Undertaking this task on your own can make it even more challenging. Therefore, the most prudent choice to ensure a smooth and secure transition at an affordable cost is to enlist the services of dependable movers and packers Kolkata.
In Kolkata, local moving service providers are well-versed in providing exceptional shifting services, demonstrating their expertise in professional relocation management and their dedication to safeguarding their clients' valuable possessions. These local movers and packers in Kolkata handle every aspect of the relocation process, from procuring ample packing materials and utilizing appropriate handling equipment to employing the right disassembly tools and selecting the most suitable truck for the job. Furthermore, they offer insurance coverage to guarantee the safe and punctual delivery of your belongings to your doorstep.
At APL Car Bike Moving, we have meticulously selected each moving company based on its track record of service quality, customer satisfaction, company profile, and brand reputation. Simply share your relocation requirements with us, and our team will provide you with recommendations for the three best-matched movers. Before making your final decision on a packer, we encourage you to personally verify their credentials. You can swiftly compare various factors such as company profiles, years of experience, services offered, pricing, local packers and movers reviews, ratings, and more. By doing so, you can make an informed choice and hire the most suitable local packers and movers in Kolkata for your needs.